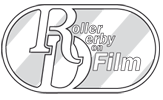 Roller Derby - Publications
Since 2009 I have documented the resurgence of Roller Derby within the United Kingdon and across the world. This has included covering the first Roller Derby World Cup held in 2011 in Toronto, Canada, for Blood and Thunder magazine and the European Championships in 2012, held in Berlin. In 2014 I covered the first Men's Roller Derby World Cup and the second women's Roller Derby World Cup for both England national squads.
My work has been featured in Blood and Thunder and Five on Five magazines in the United States, Inside Line and Lead Jammer in the UK and Deadly Kiss in France. I am a regular contributor to both Blood and Thunder (issues 16-23, front cover issue 22) and Inside Line (issues 1-15). My work has also been used in Ellen Parnavelas' books, Flat Track Fashion, The Roller Derby Look Book (A&C Black) and The Roller Derby Athlete (Bloomsbury). I have also self-published two editions of my photographs and had work featured in both national and regional press. I am also the offical photographer for the England Roller Derby and Team England, Men's Roller Derby.
Magazines
Books
I have also won two national competitions for the design of the UKRDA logo (United Kingdom Roller Derby Association - left top) and Team England Men's Roller Derby logo (left bottom).
Top