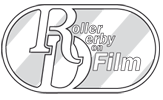 Roller Derby - Contact Me
If you want to talk to me, invite me along to one of your bouts or just want to buy me coffee and cake you can contact me here:
Teams are free to use my images to help promote their league, skaters or the sport in general. Discs of shoots are usually mailed to teams after I've got round to processing them, for their own use.
If you have any queries, or want to use images for specific purposes outside those stated above, contact me and I can see what can be done.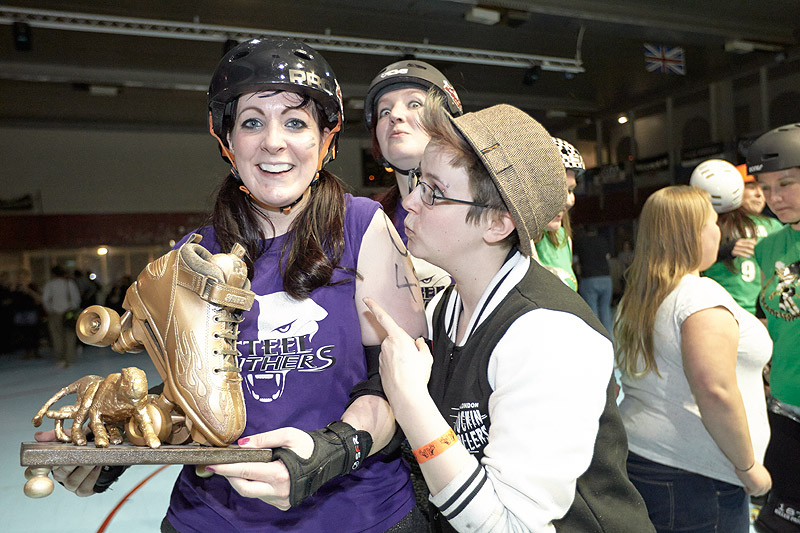 Jane Doe a Go Go (Sheffield Steel Rollergirls - Steel Panthers), Run Roller Run (London Rockin' Rollers) and Pepa (Sheffield Steel Rollergirls - Steel Panthers)
---
About me
I have been shooting Derby since 2008, in the UK, Europe and America. I shoot with a mix of digital and film, primarily using Canon cameras but also use Pentax film slrs and Zero Image pinhole cameras. I covered the first Roller Derby World Cup in Toronto, Canada in 2011 for Blood and Thunder magazine where I put up a miserable showing in leg wrestling Suzy Hotrod. In 2014 I covered the first Men's Roller Derby World Cup for Team England in Birmingham, England, and the second women's Roller Derby World Cup for England Roller Derby, in Dallas, Texas.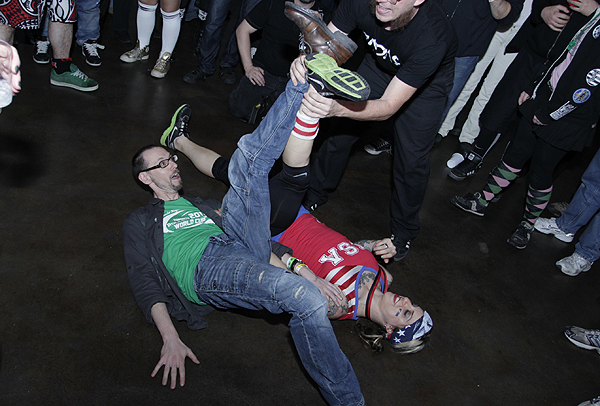 The author/photogrpher taking on Suzy Hotrod at leg wrestling. Image courtsey of Rene Meijer
Top