Roller Derby on Film
Roller Derby has expanded at a meteoric rate over the past few years. When I first started photographing Roller Derby there was a bout somewhere in the country every few weeks, now, three or four every weekend. It is a testament of not only its rise in popularity, but also the time, dedication and energy expended by individuals and teams all across the country to make things happen.
What started out as an all-female sport has developed rapidly, and now encompasses men's as well as co-ed teams.
Skaters need a mix of speed, skill, agility, power, awareness and a head for tactics, as the opposition's play can force a team to go from offence to defensive play and vice-versa in a split second.
I have travelled the length and breadth of the country and oversea,s photographing bouts organised by established leagues that have experienced skaters at both local and national level, to those leagues that are just starting out. I covered the first Roller Derby World Cup in Toronto, Canada, 2011 and the first Men's Roller Derby World Cup (MRDWC) in Birmingham, England, 2014.
My photographs have been used in the international, national and local press, across many websites, and I have self-published two volumes of photographs covering the sport from 2009 to 2013.
This website showcases some of the best images I've shot over the past few years. Full bout shoots can be found on Facebook.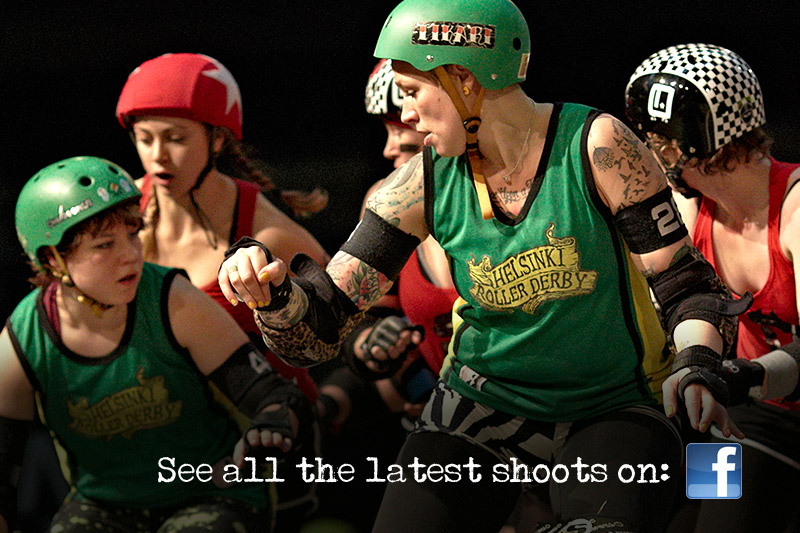 In November 2012 I held an exhibition of my favourite images at Banks Street Arts, Sheffield. A short video about it can be seen here.
Top
Social Media Channels

See my regular posts on Rollin' News.
Tweets by @derbyonfilm